Garden Calendar Gifts
A useful gift to brighten up any home is a garden calendar. You can get family planners with a garden theme or a straight garden calendar.
Last year, I got myself Garden Days by Judith Glover Mum's Family Planner. And the main reason I bought it was nothing to do with way you can put all the different family members' activities down on it. There's even a Don't Forget corner you can use which is very handy. And space for a Things to Do list.
I bought it because it was very pretty and I just feel better looking at it. (It doesn't take much to make me feel happy, I can tell you!). And yes, I do use it, of course I do and I love it!


Garden Days Family Planner by Judith Glover

You can buy the 2019 version in different formats from a family planner (two different sizes to choose from) or a slim calendar or a slim diary, all from CalendarClub.co.uk.
If you're after a calendar with comic illustrations for a garden lover, you could take a look at the Tottering by Gently slim calendar, also available through the CalendarClub. (They also do one which could be great for dog lovers and a family planner as well.)

If it's personalised garden calendars you're looking for, Getting Personal has several to choose from and the great thing is that you select the month you want to the calendar to start on. These calendars come in different sizes, depending on what you want - A5 desk, A4 wall calendar and A3 planner.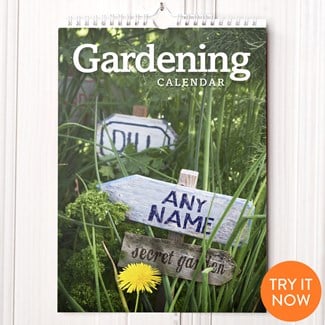 Visit Getting Personal to see their range of personalised garden calendars
The RSPB Online Shop has this beautiful Garden Birds calendar for anyone who loves watching the birds in their garden.


Garden Birds 2019 Calendar from the RSPB Online Shop
Support conservation while you do your shopping!