First Day Covers (Envelopes!)

First Day Covers (Envelopes!) from Buckingham Covers
Ways to help animals, nature & wildlife charities come in all sorts of ways, and this is an amazing way to help animals & the charities representing their needs, such as SPANA (who help animals in some of the poorest countries of the world) & the Kent Wildlife Trust. Plus the recipient gets a cover to adorn a wall or desk, with stunning pictures on it! Keep reading to find out more....
Invest in Beautiful Collectable Covers
Philatelic specialists Buckingham Covers produce beautifully illustrated collectable envelopes called First Day Covers. These envelopes include genuine Royal Mail stamps and a relevant postmark. And prices are very reasonable.
Specialist collectors refer to an envelope as a "cover". This goes back to the times when messages were wrapped in a cover of silk or oiled cloth to keep them safe. Many people are passionate about collecting covers, and they have good investment potential, which is an added bonus.
Get more info on Endangered British Birds pictured below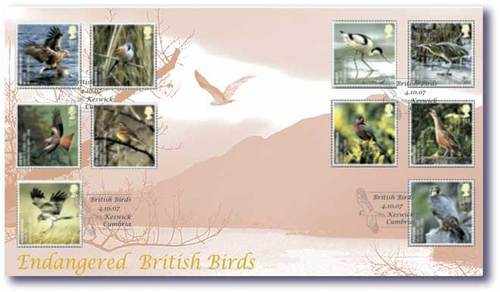 Buckingham Covers produce limited numbers of each cover, so they hold their value, but prices are really very affordable. Many of the covers are produced in association with charities, who benefit from each sale. So when you're investing in a cover, you're often also helping a charity, too. That's a great win-win.
Many covers have been signed by well known people. For instance, the cover "Fabulous Hats - Royal Ascot" has been signed by Willie Carson, another by Lester Piggott. Signatures are 100% genuine. Buckingham Covers go to great lengths to ensure that EVERY new First Day Cover they produce has a relevant signature, in some cases more than one.

Celebrating the Centenary of Police Dogs in Britain
Covers make wonderful collectable items for you or a loved one as a gift. Buckingham Covers has a variety of themes on offer, so whatever your interest, you're likely to find a beautiful cover to enjoy and cherish.
ANIMAL & NATURE THEMES COLLECTIBLES GIFTS
(There are others, many of which also support various charities - human or animal -flowers and nature, sport, military, airplanes, trains, boats, royalty, film and more!
Please mention Animal Human Wellbeing when you enquire!