King Charles III Coronation Gift Ideas
What a year for Britain this is going to be! King Charles III will be crowned King in a Coronation ceremony at Westminster Abbey on Saturday 6th May 2023. So if you're looking for gifts and ways to comemorate the occasion, here are some ideas! We'll be adding to them so please come back to check!


How about Marks & Spencer?
Marks and Spencer have lots of Coronation gift ideas, from food (sandwiches, Afternoon Tea etc) and drink (wine, bubbly and more) to cushions, mugs, bunting, t-shirts, - everything you need to celebrate King Charles III's Coronation!

This is the Coronation Mug
from M&S

There's Union Jack Coronation
Bunting for decoration.

The M&S Collection Hamper
plus lots of other goodies!


There's even a dog toy for patriotic pets!
Fetch more info here
Tree2mydoor has some gifts for the garden
Tree2mydoor.com have this beautiful Coronation Rose Bush Gift.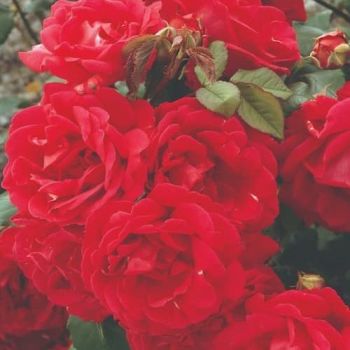 This is the Coronation Rose Bush Gift
This climbing rose bush has a deep scarlet red colour and delicate fragrance and it grows up to 12 feet in height! It's a semi-deciduous rose bush (no leaves or flowers between November to April), and it arrvies at a height of 20-30cm in a 5L pot. The blooms appear from late June onwards. It's great for garden borders! Put some colour into your garden! For £30.00 from Treemydoor.com


Emma Bridgewater is fully into the Coronation spirit!
There are all sorts of product ideas and gifts at Emma Bridgewater, with plates, different size mugs (some of which you can personalise), Union Jack napkins, tea-towels, cake stands, tea caddies, round tins, a tea pot and even a crown! They start at £3.95 for the very colourful napkins.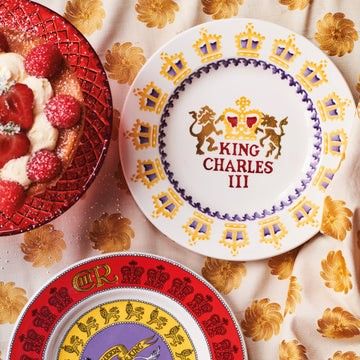 Visit Emma Bridgewater to see her range of Coronation products


How about a jigsaw puzzle celebrating the Coronation?

The Original Jigsaw Co has designed a scene specially to commemorate the King's coronation. It's called 'Long Live The King', and it includes loads of tiny details about King Charles, as well as plenty of pageantry and celebration to mark the special occasion!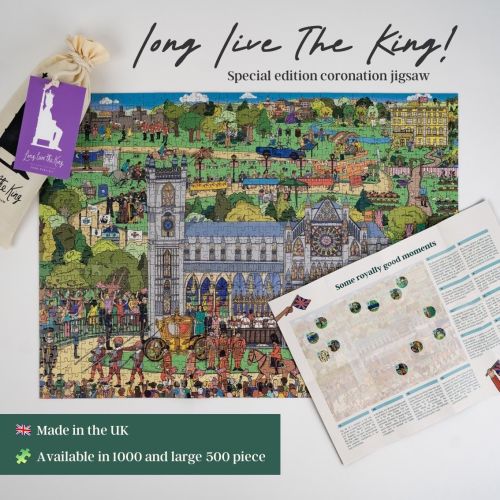 Visit The Original Jigsaw here

Each jigsaw comes in a unique cotton drawstring bag, and with a pullout sheet containing lots of interesting facts about King Charles and his coronation. Find out more from The Original Jigsaw here.


The King's Coronation Afternoon Tea with Cocktail or Prosecco for Two at The Royal Horseguards Hotel
How about The King's Coronation Afternoon Tea with Cocktail or Prosecco for Two at The Royal Horseguards Hotel? Enjoy a lavish afternoon tea, with sandwiches, scones and sweet and savory treats, inspired by the King's Coronation. And you can sip on a cocktail or glass of prosecco each as well. Available through BuyaGift, this was £120, it's now £79 and you can get a further 15% off with our exclusive code AHW2020 - it's valid to 31.12.23 and it's site wide, though some products are excluded. Find out more


Arts and Crafts for the Coronation
Arts and crafts folk Baker Ross have lots to help children (and adults!) have a great time over the Coronation celebrations, with all sorts of products from Union Jack table covers to windmill kits, bookmarks and teddy bears, commemorative pencils and paper chains, red, white and blue bunting and Union Jack paper chains.
What about a British cheese gift?
Pong Cheese have some gorgeous British cheeses - did you know that King Charles III is patron of the Specialist Cheese Makers Association, which encourages excellence in cheese making? As part of his role, he often visits artisan cheesemakers. There's 10% off the British cheese range at Pong Cheese with the code ROYAL23 - it's valid to 8 June 2023 and cannot be used in conjunction with other codes. Visit their British cheese range here.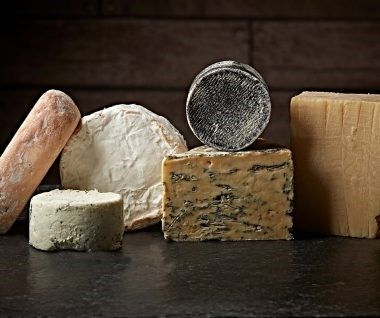 This is the Alex James British Box of Six cheeses with artisan cheeses to devour!
£38.00 from Pong Cheese


How about a book on King Charles III?
Charles: The Heart of a King (Paperback) by Catherine Mayer was a Sunday Times Top Ten Bestseller. The book gives fresh and fascinating insights into the first marriage, and an assessment of his relationship with his "dearest wife" Camilla who is now of course Queen Consort. The book shows the King in all his complexity, with his desire to make a difference and the ways in which he has already made his mark.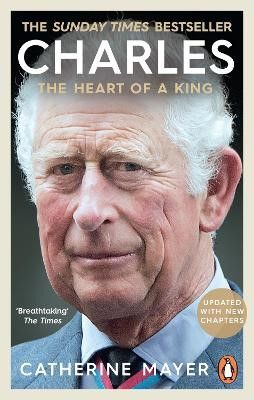 The Sunday Times bestseller "Charles: The heart of a king"
is available from Foyles for £13.99


The book has been updated and revised, and the two new chapters cover details of Harry and Meghan's exit, the cash-for-honours scandal, Prince Andrew, and so much more. It is based on many interviews with his friends and courtiers, insiders in the palace and critics and even rare access to Charles. It's available from Foyles for £13.99.
English Heritage has a number of royal gift ideas

There's a mug (very colourful, pictured below), decorations, tea-towels, a tote bag, coasters, magnets, notebook, pens and pencils, from £3.50.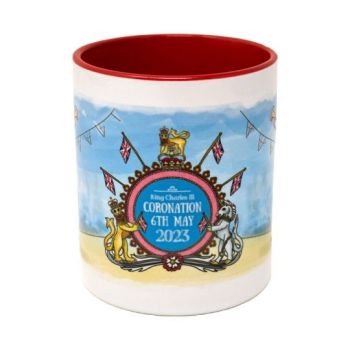 This is the English Heritage Coronation Of King Charles III Mug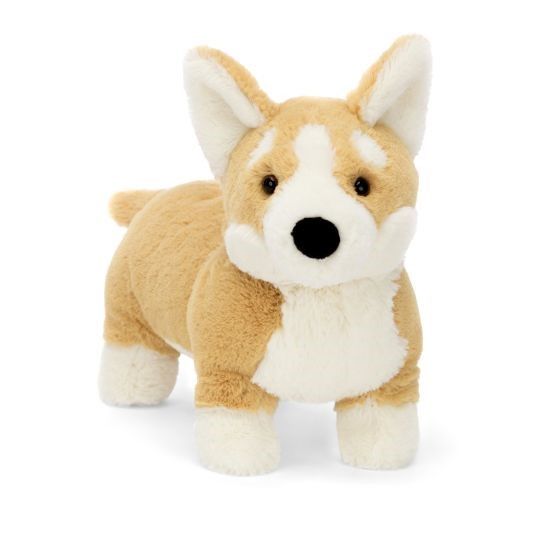 This is Betty Corgi
As you know, the late Queen Elizabeth II loved her corgis
- so we couldn't resist adding Betty Corgi in to these ideas!
From English Heritage.
Or, Living Nature have a Dorgi (a cross between a Corgi and a Dachshund) and a Corgi

Living Nature have a large range of wonderful soft toys, with everything covered from British wildlife to jungle animals, dinasoars and small pets. They also have a gorgeous range of dogs, including (of course!) the Corgi and the Dorgi...
How about a day out to royal attractions?
Into the Blue have a number to choose from in their Royal Collection, such as visits to Windsor Castle, Buckingham Palace and the State Rooms, the Royal Mews, a Changing the Guard and Walking Tour, the Household Cavalry Museum, the Queen's Gallery Entry, the Royal Pavilion (that's in Brighton on the south coast) and Edinburgh Castle. Some of these combine visits to the venues with food and drink.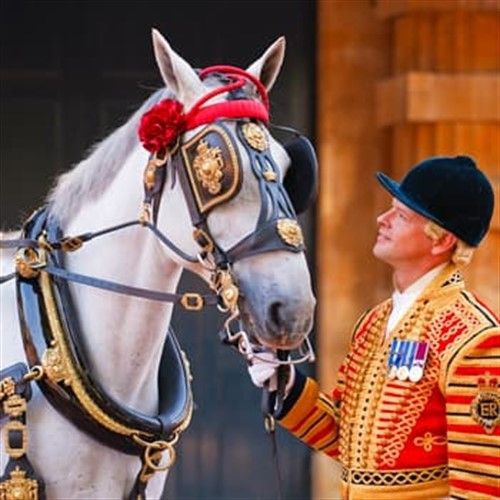 Canter away to see the Royal Collection available from Into the Blue, including a visit to the Royal Mews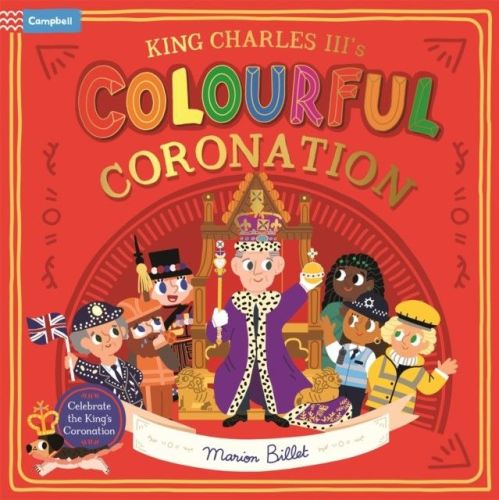 This is King Charles III's Colourful Coronation from Hive.co.uk
King Charles is on his way to Westminster Abbey to be crowned.
He meets his colourfully dressed subjects one by one- beefeaters in blue, a very yellow lollipop man....
And then King Charles realises he's going to be late!
Will he make it to Westminster Abbey in time?
Find out with this read-along story by Marion Billet, avialable for £7.99 from Hive.co.uk



Winnie-the-Pooh Meets the King -
an illustrated gift book to celebrate the Coronation of King Charles III
for 2 - 6 year olds
£6.99 from Amazon

Time for Tea!

Afternoon Tea is a very British thing to do, and Whittard of Chelsea have a great Best of British gift set, with a heritage tea selection of black, green and white teabags inspired by their love of all things British, especially London. The teabags are individually wrapped.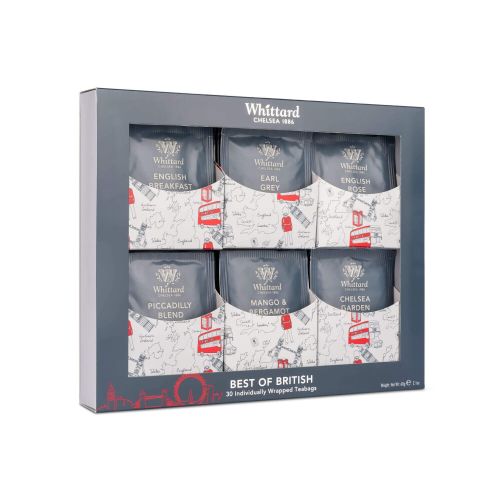 This is the Best of British Gift Set from Whittard of Chelsea