New Purple Veg range from Emma Bridgewater
Posted on
Take a look at the Purple Veg range from Emma Bridgewater. (Watch for the NEWS item at the end of this blog...)
It's bold, with aubergines, peas, asparagus and artichokes in glossy deep purple and green,
There are a range of products in this range you can choose from, such as different sizes of jugs and mugs, plates and platters, serving bowls, pasta bowls, salad bowls, vegetable tureens, tea pots and cups and saucers.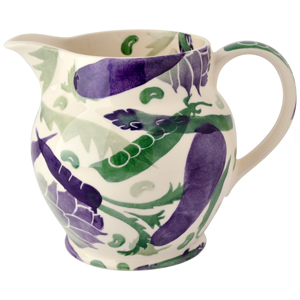 The Purple Veg 1 1/2 Pint Jug, pictured above for £34.95, is one example of a product from the range. It's great as a water jug on a table or you can fill it with flowers cut from your garden!
Click here to visit the Purple Veg range from Emma Bridgewater.
EASTER 2017 NEWS!
Don't miss the great special offers on this Easter - up to 25% off until 23:59 GMT on Tuesday 18th April 2017. 20% off bedding, 25% off Sampler, 25% off glass, plus more! Disounts applied at checkout. Click here to go straight to Emma Bridgewater's website to find out more.