For wildlife lovers, how about some wildlife art to support wildlife conservation?
Posted on
There are a lot of artists and photographers who are doing their bit for wildlife conservation.
The David Shepherd Wildlife Foundation has some wonderful works of Wildlife Art you can buy for a loved one, with a number of different artists. There's something for lovers of all sorts of wildlife, from elephants to crocodiles and hedgehogs to whales. You can use the search facility on the website to search out work relevant to your loved one's favourite animal.
You can also search by artist and by medium, e.g. etching, pastel, photograph etc. And you can search by price so that it's easier to find something for your budget. Prices start at £2.50 for a greeting card, to £10.00 for wildlife sketches.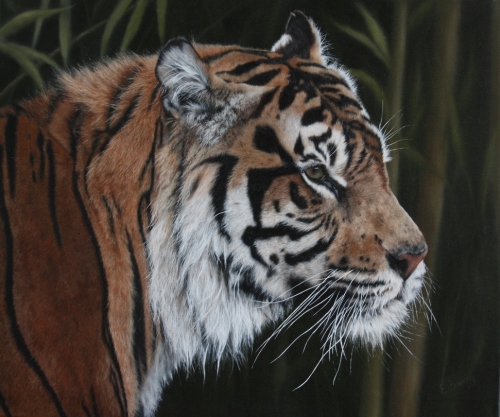 Magnificence is by Emma Bowring for £65.00 ©Emma Bowring
This all makes it very easy to buy a work for your loved one - and best of all, Wildlife Art supports the David Shepherd Wildlife Foundation, since all profits go to help save wildlife. There are some wonderful works of art, so do take a look.
The David Shepherd Wildlife Foundation funds key conservation projects across Africa and Asia. It works to increase awareness of the need to protect and conserve wild animals and their habitats. The organisation works to fund conservation projects which fight wildlife crime, protect natural areas and engage local communities in finding long-term, sustainable solutions to protect their native wildlife. And it campaigns for stronger laws and protectionist policies for wildlife. You can find out more about the work the charity does here.