Treat yourself to an apple tree....or two....or an apple tree collection!
Posted on
Suttons Seeds have an amazing offer on an Apple Tree Collection at the moment, so if you feel like an apple a day, this is a great chance to have a go at growing your own!
This is a fantastic offer from a great company, so I wanted to let you know about it. You could share it with a friend or grow all of these apple trees yourself.
The collection gives a whopping 68% off - you pay ONLY £29.99 so saving yourself an incredible 68% - usually this would cost £95.95 so this is an incredible deal.
The collection includes Elstar, Fuji, Golden Delicious, Jonagold and the cooking apple, the Bramley.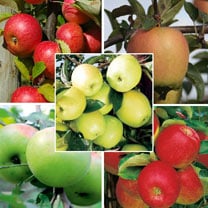 A mouth-watering offer from Suttons .....
save yourself 68% on their Apple Tree Collection