Gift ideas for Mum who love to pamper themselves from Green People
Posted on
Green People have some lovely gift ideas for Mums who love to pamper themselves! Their natural and organic products aren't tested on animals and they were started by a Mum who was looking for a solution to help her daughter's eczema and allergies.
I use their products and I love them. I use their Gentle Cleanse and Make-Up Remover which is the best cleanser I've ever used; and also the Day Solution Moisturiser. One of the reasons I love this company is because it works with chairties such as the Marine Conservation Society, the Woodland Trust and Butterfly Conservation and Plantlife, so they do support nature, which means a lot to me.
They have a range of products from moisturisers to hand cream, body lotion to make-up, and they also have two special edition gift boxes:
Here's A Divine Treat, a special edition gift box of Orange Blossom skin care. It includes Orange Blossom Exfoliator, an Orange Blossom Cleanser and an Orange Blossom Moisturiser, each of which is 50ml in size.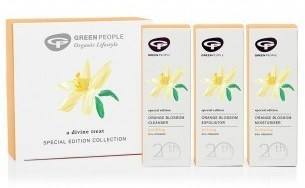 A Divine Treat from Green People for £50.00


And here's A Heavenly Treat, a special edition gift box of Damask Rose skin care. It has a Damask Rose Cleanser, a Damask Rose Moisturiser and a Damask Rose Hand Cream. Each is 50 ml in size.
There's plenty more to choose from, such as a Damask Rose Hand Cream (£15) if you're looking for a smaller gift.

Click here to see more Mothers Gifts ideas from Green People