Bird books for children and adults - get ready for the Big Garden Birdwatch!
Posted on
January is an important month for the RSPB (that's the Royal Society for the Protection of Birds).
It's the time of year of their Big Garden Birdwatch (26-28 January 2019), the world's biggest bird survey. Members of the public are needed to volunteer to spend an hour watching and identifying birds in their garden or local park and then to report these sightings back to the RSPB.
The survey gives the RSPB an idea of which bird species are doing well and which need help. They can then take steps to help the birds in trouble.
So this is a great opportunity to put your bird knowledge to the test and spend some time in the next weeks discovering more about bird species.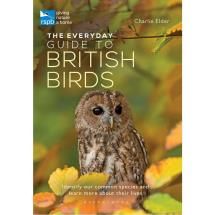 The Everyday Guide to British Birds
is available from the RSPB Online Shop
For anyone who wants to discover more about birds, the RSPB' website is a great source of knowledge and information; but they also sell bird books from their online store.


Check out the RSPB's bird books for children
The Big Garden Birdwatch gives adults and children together a great chance to do something for nature. So check out the bird books the RSPB has - they would make great presents for children to get them into nature and you can support nature at the same time.
They also have books for adults and don't forget that if you really want to push the boat out, you could also give them RSPB binoculars - they have some for adults and children :-)
I should also add that schools can get involved in the Big Schools Birdwatch too. Children love it!