Vegetable Planting Chart - save 33% at Suttons
Posted on
Here's a gift idea - or you could treat yourself - for people who want to plant their own vegetables.
It's a Vegetable Planting Chart, based on simple three or four year rotation systems, and it's available from Suttons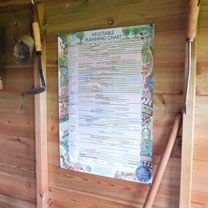 It is A3 laminated and has a colour coded, easy to read planning guide telling you when to sow, plant, harvest and when to force, protect etc for each crop. On the back, you'll find the rotation details and which plant falls into which rotation group.
It's currently on offer at Suttons Seeds for just £5.95 instead of the usual £8.95 so you can save yourself 33% on it.