RSPB Big Garden Birdwatch Gift Ideas for nature lovers
Posted on
It's an exciting month for anyone who loves nature because it's the time of year for the RSPB's Big Garden Birdwatch!
The event takes place at your home or in your local park for one hour only - you choose the time you do it - on one day of the 26, 27 and 28 January 2019. You just sit and watch the birds in your garden or local park for an hour, and you make a note of the different species you see, and then you send your findings off to the RSPB (the Royal Protection for the Society of Birds).
This survey has been going for 39 years, and it gives the RSPB a chance to find out which bird species are doing well and which need some help. It's a big event, the world's largest birdwatch, and last year nearly half a million people choose to put their feet up and watch birds for an hour.
To coincide with the event, the RSPB Online Shop has 3 gift ideas you can give the bird lover or nature lover in your life:
This year, to commemorate the 40th anniversary of the Big Garden Birdwatch, there's an exclusive '40 Years and counting' mug, with some of the most frequent garden visitors from the past 40 years. And what's more, with every mug purchase you can choose a FREE bag of Bird & Wild Coffee. All for £8.50! Buy this mug here (biscuits not included!) Your loved one can sip their hot brew whilst watching and recording the birds!
Or, how about a treat for your birds?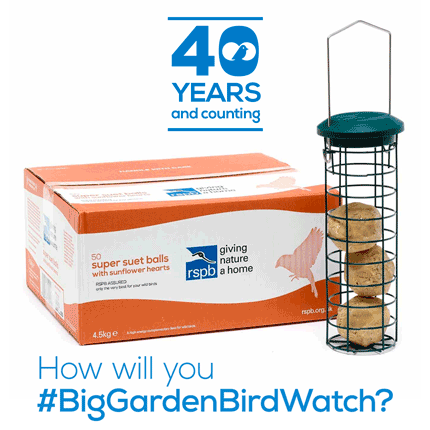 Big Garden Birdwatch suet and feeder offer 2019
£13.50
The RSPB have bundled a Classic suet ball feeder for free with this box of 50 Sunflower hearts super suet balls! They are great for the birds, and you can get about 3 balls into the feeder, so it should last you some time. Our birds love them! Fly away to grab this offer here

And finally, there's a Big Garden Birdwatch starter kit offer which is incredible value because instead of £41.21, you pay only £20.60. It includes..
a small Classic easy-clean seed feeder,
1.8kg of Premium sunflower hearts for your seed feeder,
a small Classic easy-clean nut and nibble feeder,
1kg of Buggy nibbles for your nut and nibble feeder,
a Classic easy-clean suet feeder (ideal for fitting around 3 suet fat balls at a time),
and 12 Super suet balls (Sunflower heart variety).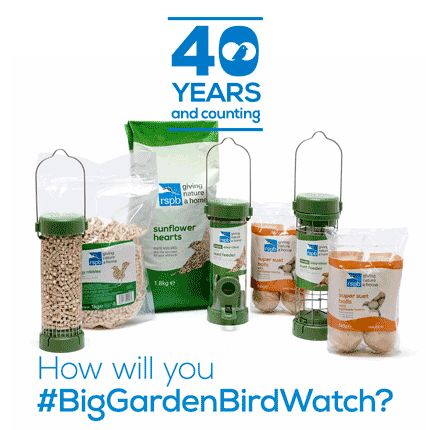 All items added together would be £41.21
but you can have this for £20.60 from the RSPB Online Shop!
Flap your wings and take off to the RSPB's Online Shop here