Never mind Brexit - Grow your own Tomatoes!
Posted on
The last few times I've heard anything about Brexit, there's been a mention we might run short of tomatoes.
Simples!
You can grow your own tomatoes so why not give someone a gift of tomato seeds or plants, or grow your own?
There's nothing like growing your own. It can be frustrating - yes - but it can be tremendous rewarding and there's nothing like picking your own food that you've grown yourself.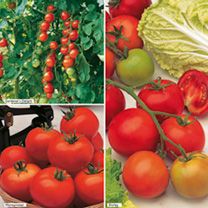 Grafted Tomato Plants - F1 Crimson Collection from Suttons
Was £19.98, now £14.99 - save yourself 24%
Suttons have just sent their March newsletter in which they point out that Cherry tomatoes are great for growing in hanging baskets; while French beans can grace an arch or doorway; you can grow hebs in pots on a window ledge - and peashoots, salad leaves and radishes will all be at home in old biscuit tins or Quality Street tins - they say you should just punch a few holes in the base first.
The other advantage about growing your own is that you'll help the planet cut down on the amount of miles has to travel before it reaches its intended destination. And you'll help reduce food waste overall if you pick what you need, rather than buy a pack you end up not using.
There are many different varities of tomato plants so you could treat a friend to one type and yourself to another and swap tomatoes so that you both get a good mixture on your plates.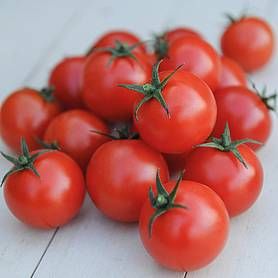 Tomato Gardeners Delight from Thompson & Morgan
Suttons Seeds and Thompson & Morgan both sell tomato seeds online... and you don't need a lot of room to grow them. Thompson & Morgan have a guide on how to grow tomatoes.
And here's a tomato themed gift from Emma Bridgewater from her Vegetable Collection to decorate a table with - it will add a real dash of tomato colour!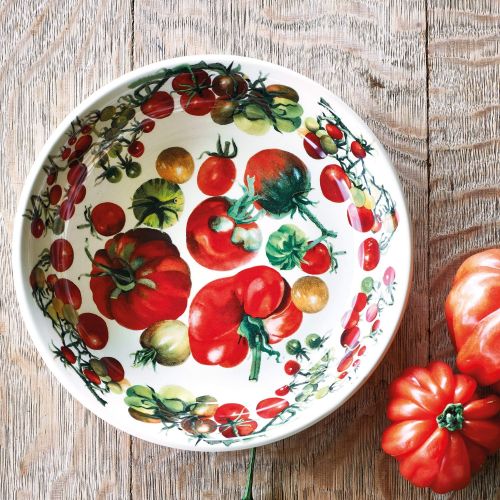 View Emma Bridgewater's Vegetable Garden Collection