2020 Family Organisers - get organised for 2020
Posted on
So the 2020 National Trust Family Organiser is now out and you can buy it directly from their website.
It was designed exclusively for the National Trust by Sarah Lovell, an illustrator from the beautiful county of Dorset. The A3 size calendar has 12 illustrations of National Trust sites from around the UK. The scenes are illustratead in water colour and they have native animals from around the UK.
This A3 calendar is great for keeping track of everyone's comings and goings - everyone can see what everyone else is doing. There's room to record family dates and events and the hook means you can hang it from a wall.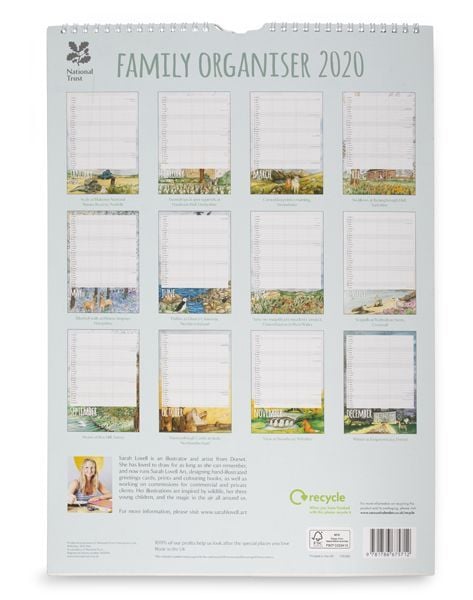 The National Trust Family Organiser 2020 has room to put important family dates in
It costs £8.00
One thing it would be nice to do is to look for any events the National Trust are holding near you and put them in your 2020 National Trust Family Organiser or plan a day out to a National Trust venue.
The Trust do some fabulous events for the family - such as the Easter Egg Hunt - and you never know what workshops and courses, days out and such like they may run for children (some with parents, some without) in the school holidays so it's worth checking.
That way, you really can get the kids off their screens and doing something more interesting and fun instead!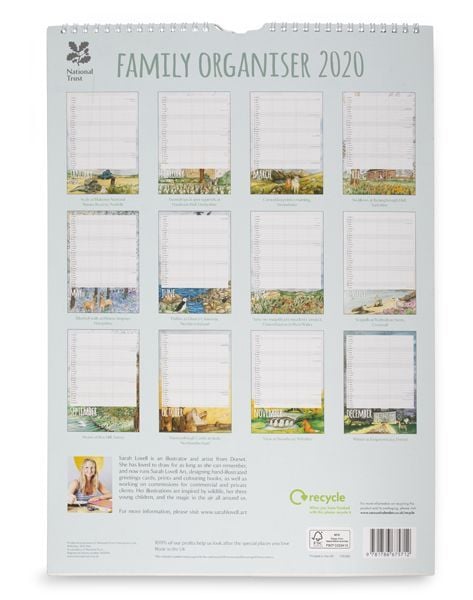 Make the most of 2020 with your Family Organiser

Click here to go to the National Trust Shop to buy it