15% off at BuyaGift.co.uk until 1 April 2020
Posted on
Great news from BuyaGift.co.uk!
They are giving visitors from Giving-Gifts.co.uk a lovely 15% off all their experiences – and that includes special offers and 2 for 1s!
BuyAGift have a huge range of experiences around the country and these include things like Blacksmith for a Day, vineyard tours, stadium tours, alpaca walks, birds of prey experiences – there is a lot to choose from! There are flower arranging experiences, too!
They have lots of animal encounters with everything from simply entry to various wildlife parks or zoos, to meerkat encounters, piggy pet and play, red panda encounters, penguin experiences and of course those majestic big cats. You could go on a hawk walk, tickle a tapir or try your hand at being a zookeeper for a day.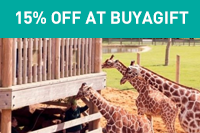 There are garden experiences a plenty, giving your loved one the chance to simply stroll around beautiful gardens and enjoy the results of somebody else's labour; or adding an Afternoon Tea into the equation so you really spoil them!
All you need to do to get your 15% off is to use the code AHW2020 by 1 April 2020.