Year of the Rabbit mug from Emma Bridgewater
Posted on
It's time to celebrate the Lunar New Year, and those lovely folk at Emma Bridgewater have produced a new Year of the Water Rabbit 2023 ½ Pint Mug!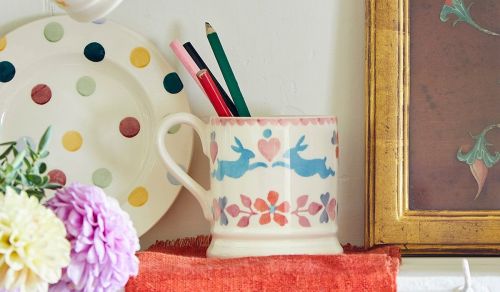 You could use the mug for all sorts of things - apart from drinking a lovely hot brew from. It's a fun mug and you could use it in all sorts of places around the house.
It's for £23.00, and it's microwave and dishwasher safe, although a lower temperature wash and liquid detergent recommended to maintain appearance.
Hop off to Emma Bridgewater to take a look here!


SPECIAL OFFER - 20% off almost everything at Emma Bridgewater!
There's 20% off almost everything* at Emma Bridgewater until 19 March 2023 at 23:59 GMT! Use the code TREAT20 to get your 20% off. Go to the website here
*This offer excludes Charity, Electricals, Gift Vouchers, Lifetime Membership & Factory Tickets. Ends Sunday 19th March, 23:59 (GMT).