Personalised Hydration Tracker Water Bottles to help keep track of your water intake
Posted on

The weather is certainly getting hotter where we are and it's important to keep up your fluid intake.
If you're one of those people who don't think you drink enough water and want to do more, this Personalised Hydration Tracker Water Bottle may help you.
It's a plastic BPA free bottle with an hourly time tracker on the side - so that you can keep track of how much water you're drinking. It holds 750ml, and it's got a screw cap.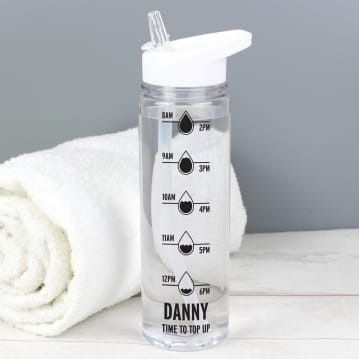 This Personalised Hydration Tracker Water Bottles
is available from Find Me a Gift for £14.99
Not only that, but you can personalise it with a name of up to 12 characters long! You can also choose between pink or black.
TIME TO TOP UP is part of the design - a handy reminder!
Go to Find Me a Gift to find out more and to buy this gift.
Please don't forget your furry friends too! They need access to fresh, clean water as much as we do.