Adopt an African Elephant

Adopt an African Elephant from the Sheldrick Wildlife Trust
You could adopt an African Elephant through the Sheldrick Wildlife Trust (the David Sheldrick Wildlife Trust), in Kenya.
The Trust has a number of projects to help elephants there, including rescuing orphans, anti-poaching activities, aerial surveillance, a canine unit to sniff out poachers and wildlife offenders, community outreach, saving habitats, a veterinary unit to alleviate the suffering of injured and sick wildlife, providing water sources for wildlife and supporting Kenya's wildlife through sustainable tourism. Find out more about these projects here.
And you can adopt an orphan baby elephant to help them in their work.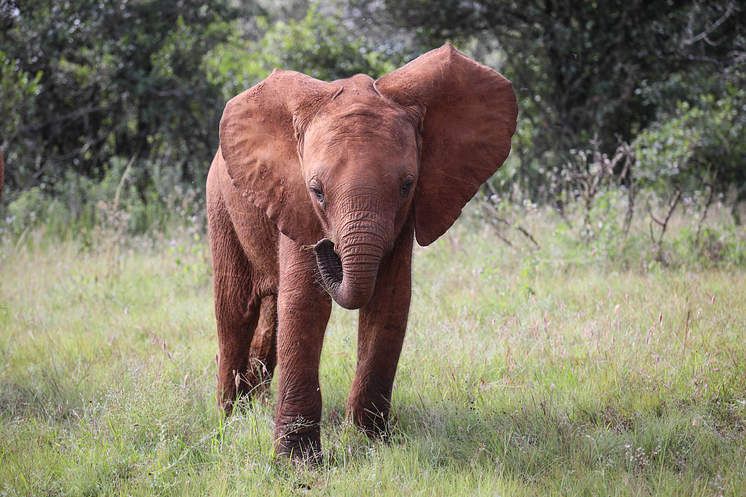 Adopt Naleku from the Sheldrick Wildlife Trust


Little Naleku was an orphaned baby elephant. The Trust heard from the KWS in January 2020 about her; her mum had died the night before in the Masai Mara. At that time, Naleku was about six months old and she couldn't survive without her mother's milk or protection from predators.
So a veterinary officer from the KWS – Isaac Lekelol – went down with the Trust's keepers to rescue Naleku. Fortunately she was in the company of another adult female elephant and her calf who were protecting her. The mother hadn't given Naleku any milk which isn't unusual because she would have put her own calf first.
The adult female was sedated so that the ground team could capture and restrain the orphan and then they prepared her for her journey back to the airfield in the back of a land cruiser. From there, she had a flight to Nairobi and then taken to the Nursey. A stable had been carefully prepared for this little elephant, and she quickly latched on to the bottle of milk. She was wary of the keepers, of course, but she stretched out for her milk because she was really thirsty. And there was some cut greenery for her to feast on, but nonetheless it was a restless night for everyone as she got over her ordeal and the loss of her mother.
Exhausted, the little elephant lay down and slept, and then she was let out in to the forest with the other nursery orphans. Staff knew that the other baby elephants would understand what little Naleku was going through and that they would comfort her and calm her. And they did! And she grew used to the keepers, too and settled down in the nursey.
You can adopt Naleku and support the Sheldrick Wildlife Trust's work. You could also adopt a rhino and/or a giraffe!
Adoptions are from £35 for a year.
You'll receive:
Personalised adoption certificate.
Monthly email update on your orphan and the project
Monthly water colour by Angela Sheldrick
Access to special content, latest Keepers' Diaries, videos and photos!
Adopt Naleku today for yourself or as a gift for an elephant lover!