Chocolate treats to help wildlife and people!
Posted on
The RSPB has just launched Gola Rainforest Chocolate.
It's made from sustainable, ethical and environmentally conscious cocoa. And it's grown in the shade of forest trees by communities living around Sierra Leone's Gola Rainforest National Park.
It's really important to help farmers earn a living without encroaching on the rainforest. Local farmers are farming in ways that helps forest wildlife. Many endangered species live in the forest, such as pygmy hippos, forest elephants, chimpanzees and over 300 bird and 600 butterfly species, so it's a very important hotspot for biodiversity.
The RSPB has been working with local partners on a sustainable management model for the Gola Rainforest.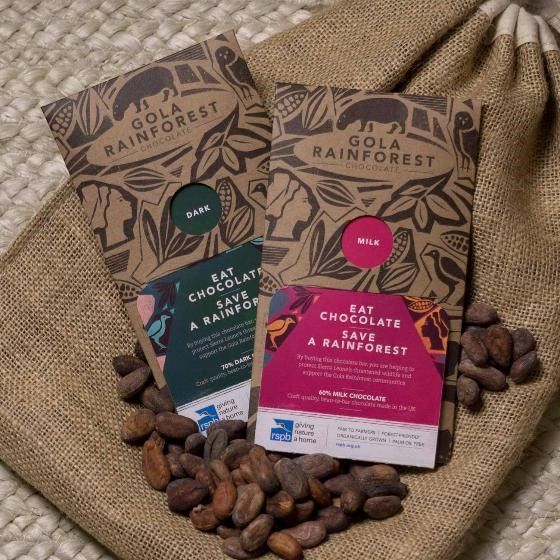 The chocolate is made from bean to bar in Cornwall in the UK. Profits from the chocolate are reinvested into the Gola Rainforest Cocoa Project. The farmers are thus rewarded for their role in protecting the rainforest and the wildlife living there. And importantly the chocolate is palm oil free!
You can help protect wildlife, help the RSPB work with local partners and help local communities earn a living without encroaching on the rainforest by buying this chocolate as a gift for someone, perhaps an animal lover!