Looking for an unusual gift for a golf lover?
Posted on
One of the joys of having people in your life who have a particular interest is that you can give them a gift connected to that interest.
And with golfers, there are lots of different gift ideas, but this one struck me as being fun for the golfer. It's a Golf Mug - and your golfing loved one can do some practice whilst at their desk!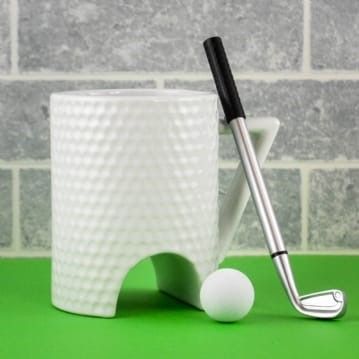 This golf gift is available from Find Me a Gift for £12.99
The golf lover in your life can practice putting with this mug which has a specially designed arch at its base. The inside rim reads "Putt, Chip and Sip".
I would imagine this gift set could liven up a lot of dull and lengthy phone calls at work very considerably as you try your putting skills whilst pretending to listen to what's being said on the phone!
Turn the mug on its handle, and you can chip your ball into it.
Find out more from Find Me a Gift.